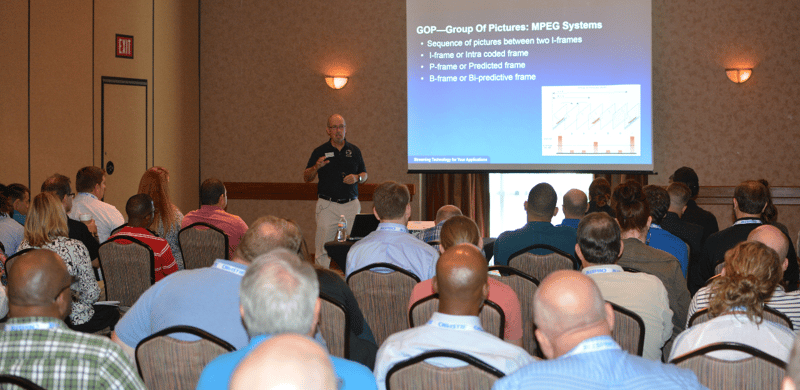 The audiovisual and broadcast industry changes so fast that technology professionals have to actively work to keep up. The good news for those in the North Carolina and South Carolina area is that the Fusion Technology Expo packs numerous seminars and hands-on demos into a single day.


Get to Know the Latest AV Technology
ClarkPowell hosts the Fusion Technology Expo to highlight new products and solutions in a fun environment.

This year's attendees can choose to attend seminars that include:


Biamp: Sound Effects in Multiple Architectural Spaces
Crestron: DM NVX with New Pixel-Perfect Processing
Draper: When to Project in a Monitor World
Extron: AV Streaming Over IP for Professional Systems
Kramer: The Simple Wired and Wireless Classroom
Panasonic: Best Way to Display
Tightrope: Future Proofing Your Local Cable Channel
Vaddio: USB Conferencing: The Critical Components Making Soft Client Conferencing Work
ClarkPowell: NDI-Video Over IP


Warren Baker, production sales specialist engineer for ClarkPowell, said Fusion presents a better professional development opportunity than many shows because the manufacturer representatives who attend are more accessible. Fusion attendees are able to have more in-depth conversations about the topics that interest them.

"These seminars have a different dynamic than going online and watching videos. You can interact and ask questions during the seminar, which you can't do while watching a video," Warrens says.
Get Connected to People in the Industry
Fusion offers attendees the chance to get to know peers, AV pros, and manufacturer reps. Establishing industry relationships can be fun, but it's also beneficial in the long run because you'll have a range of knowledge to access when you need it.

"We all kind of know each other but we're also building contacts with people who may do things in a different way. Networking is important, and each year at Fusion I see customers getting to know other customers."
Get Connected to People in the Industry
If you're considering going to this year's expo, here are the details:


Seminars: Offered throughout the day
More than 50 AV and broadcast manufacturers and experts
Date: October 9
Time: 9 AM to 3 PM
Location: Hilton Charlotte University Place in Charlotte, NC
Price: Free
Parking: Free
Raffle with exciting prizes