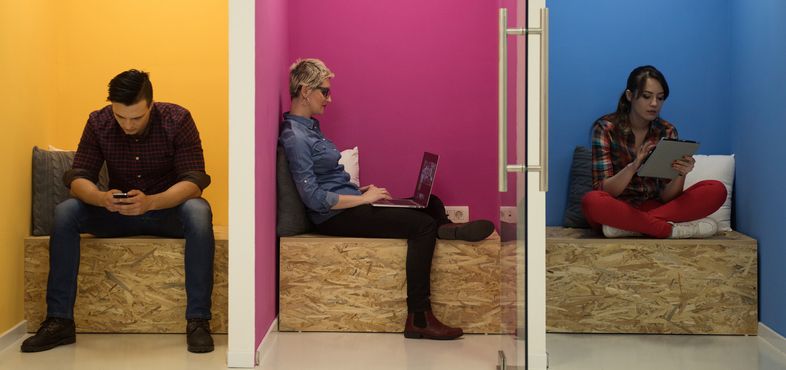 Employees don't come in a one-size-fits-all box—nor should they have to work in one. If you want happy employees who generate innovative ideas and produce great work, supply them with flexible spaces that allow them to concentrate, collaborate, and expand their thinking. This may mean giving them the means to work from a plane, write in silence, collaborate on a video conference call, or even ideate in a space with an interactive whiteboard and a 3D printer.

By accommodating as many work styles and preferences as you can, you can increase agility and productivity while also inspiring creativity and innovation.
Planning for the Future of Work and Collaboration
Creating flexible work spaces is worth the effort, but it can be a challenge because what works for one company won't necessary work for another. It pays to start by considering your industry, your physical spaces, the types of work performed at your organization, and employee preferences.

Some of the kinds of work you may need to accommodate include:


Planned meetings


Impromptu collaboration


Occasional drop-in work


Quiet work


Meetings with remote employees/clients
Once you've outlined all of the kinds of activities teams will perform, think about the flexible spaces you may want build, including:


Open work areas


These can be spaces with desks, tables, and various types of seating. They can incorporate displays and numerous connectivity options for employee devices.



Pros

: Opportunities for spontaneous communication


Cons

: Noise, interruptions, and lack of privacy



Multipurpose rooms


With moveable seating, these rooms are more flexible than traditional conference rooms. They can be used for calls with remote workers or for in-office collaboration. These spaces may be equipped with whiteboards, wireless content-sharing devices, and video conferencing solutions.



Pros

: Easy to find meeting space


Cons

: Not easily adaptable to both very small or very large groups



Quiet Spaces


These can be anything from a "phone booth" with a table, chair and speakerphone for private conversations to cubbies with desk monitors for concentrating on computer work.



Pros

: Available on demand


Cons

: Requires sound barriers and usage rules



Training and presentation rooms


These rooms accommodate large groups, with seating focused on the presenter. They often feature a projector and content sharing capabilities.



Pros

: Designed so all participants can see and hear


Cons

: Reservations required



Huddle Rooms


These spaces are designed for small groups to get together as needed. These can be equipped with interactive whiteboards and video conferencing solutions.



Pros

: Accommodates impromptu meetings


Cons

: Generally too small for more than 6 participants



Flex Spaces


There are so many variations of these work areas. They are designed to allow drop-in work and help maximize real estate usage. You have a lot of freedom to design the kind of flexible spaces your organization needs while optimizing space, employee time, and your other resources. These stations are often equipped with phones, keyboards, desktop monitors, wireless mice, and USB cables.



Pro

: Flexible option for mobile employees


Cons

: Difficult to assess utilization and number needed


Getting Started with the Space You Have
There is no flexible space design that is perfect for every organization. Careful planning and help from a technology partner can help you ensure you're making the right technology and real estate choices.

You can also start improving productivity in your meeting rooms right away with these design tips.