Thank you to all who exhibited, attended, or otherwise supported ClarkPowell's 2018 Fusion Technology Expo in Cary, NC.

We had a fantastic show, with more than 50 leading audiovisual (AV) manufacturers and distributors demonstrating their latest products. The Fusion Expo attracted over 300 AV and technical professionals from the Triad.
A Jam-Packed Day
The exhibition floor was busy all day, and vendors mentioned how impressed they were at how knowledgeable the attendees were. There was a lot of new technology to check out, and turnout was great for the 13 training seminars offered by our sponsors. Topics included: media streaming, video over ethernet, wireless presentation, laser projection, digital signage, video conferencing, and much more.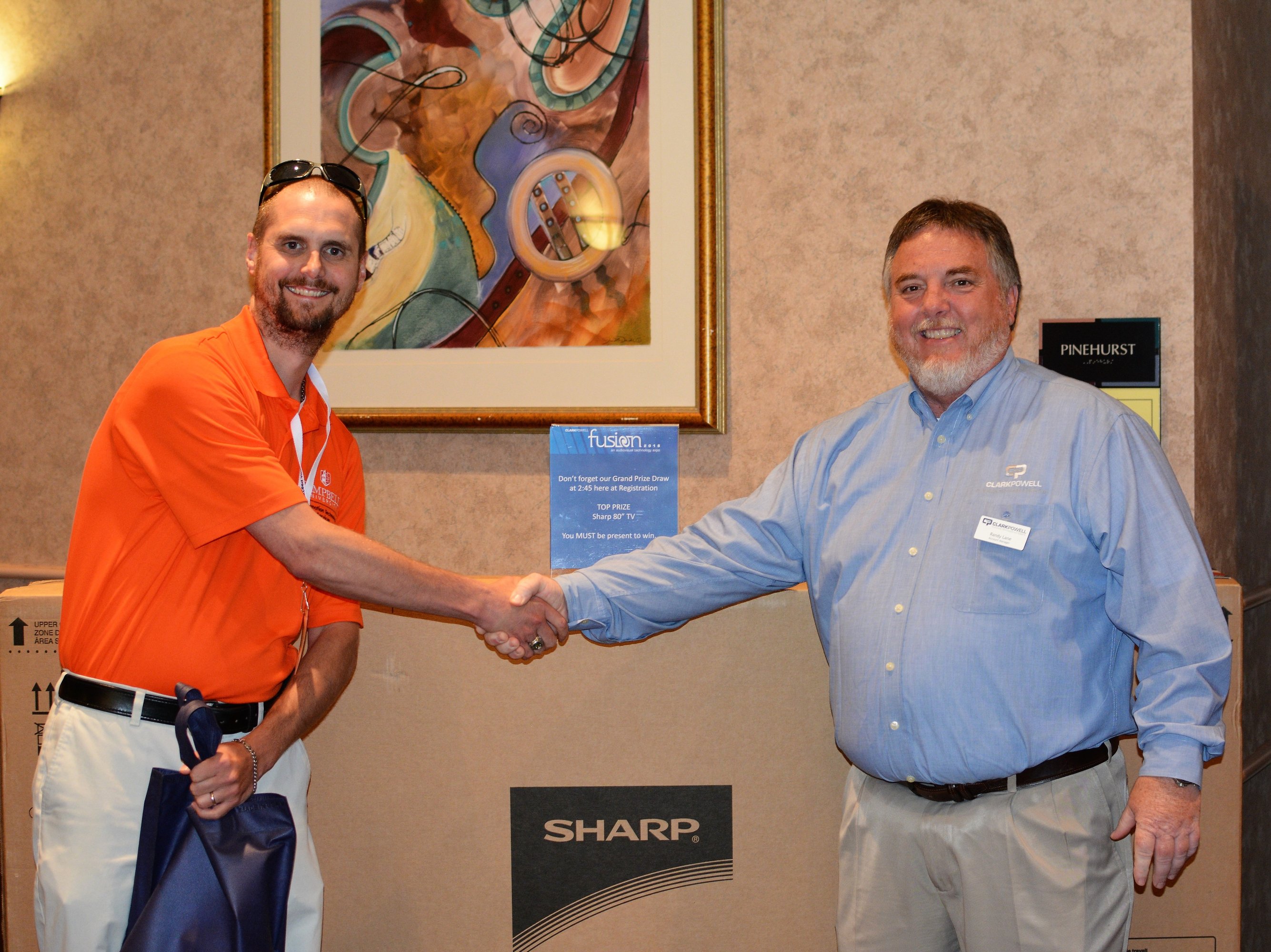 Brian Church (left) was the grand prize winner of the 80" Sharp TV, pictured here receiving his prize from Randy Lane of ClarkPowell.
Participants were able to network at lunch and just enjoy catching up or meeting fellow professionals. The day ended with a free raffle for attendees. We gave away more than 30 prizes donated by ClarkPowell and our vendors. Prizes ranged from $50 Starbucks Gift Cards to the grand prize of an 80" Sharp TV. Brian Church of Campbell University Law School was the lucky winner!

What We Learned
Not only are these events educational because of all the information our vendors share and because of the opportunity for participants to earn CTS RU credits, but they give us and the attendees a chance to measure the state of the industry. Some of this year's takeaways include:
Technology is changing fast. AV was once a slower-paced industry, but as audio and visual innovations converge with IT, cloud, software, and AV-over-IP options allow us to offer a wider—and more interesting—range of solutions to clients.
We work in a smart industry. This goes not only for the technology but for the people. We've always known this, but the professionals we get to work with are eager to keep up with industry and technology changes and seem to know more and more every year.
We get to work with the best. We are lucky to work with some of the best vendors and technology professionals. They are genuinely conscientious and supportive professionals who make these events worthwhile—and fun!
AV needs more events like this. Large events like InfoComm are well attended, but regional events like Fusion allow attendees to ask more questions, get closer to the technologies, and build industry relationships more easily—and all at a lower cost. In fact, Fusion has been a great deal because it is free for attendees.
Looking Ahead
We've been hosting the Fusion Expo for 22 years and plan to continue to provide that value and hands-on experience.

We hope you can join us next year in Charlotte, but if you have any questions in the meantime, we're happy to help. If you're in the North or South Carolina area, we can meet you to offer an in-depth evaluation of your audiovisual needs.
---