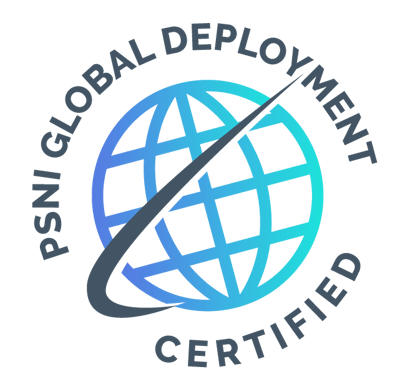 If your company is like your mid-market peers, you are probably experiencing growth and expansion—possibly at an unprecedented rate. According to the National Center for the Middle Market, performance indicators for the U.S. middle market show 8.7 percent average year-over-year revenue growth, the second highest ever recorded. Seventy-four percent of middle market companies reported increased revenue over the past 12 months, and 51 percent of middle market companies reported employment growth within the past year.

All that growth can come with growing pains, however, especially for companies expanding to new regions across the globe. Luckily, ClarkPowell is growing too, by adding capabilities that can help you succeed no matter where your company goes or how large your company gets.
Expand Globally with a psni-certified integrator
One pain point for expanding companies is deploying effective audiovisual solutions that are compatible, identical, and reliable across global locations. The solution is to work with a certified integrator that has the experience and network to provide high-quality, standardized AV integration services anywhere in the world.

As a longtime member of the PSNI Global Alliance, ClarkPowell has access to a network of partner integrators around the world, all of whom adhere to the same standards for AV delivery and deployment. In addition, ClarkPowell Director of Technical Operations, Mike Parks, recently earned the PSNI Global Deployment Certification. To receive this certification, integrators must demonstrate they have the skills and understanding to deploy multi-destination projects and address the issues and requirements of multi-site, multi-country deployments.

"We're excited that Mike Parks has been certified for Global Deployment with PSNI on behalf of ClarkPowell," said Susan Pinch, President of ClarkPowell. "Mike's role as Director of Technical Operations is a key part of our integration team, and this certification allows us to work in sync with other integrators so we can focus on the same goals for the best outcome for our customers."

By partnering with other integrators around the world, even small to mid-size integrators can deliver high-quality and reliable AV installations on a global scale. Integrators certified in global deployment are also subject to peer reviews from other PSNI affiliates to assess compliance and whether customer expectations were met. All of this means ClarkPowell is ready—and certified—to deliver AV integration projects that support your growth.
Whether you are planning a small, local integration project, or getting ready for a larger global deployment, ClarkPowell has the expertise, resources, and network to deliver. Get in touch with one of our experts today.